…Vegeta is clearly about to break through the glass ceiling and attain the Ultra Instinct form. He tried reaching that form the same way Vegeta did but quickly changed his mind after getting floored by Jiren not once but twice. His pride as a Saiyan Warriore is likely why despite having knocked him out twice, Jiren passed on eliminating him from the tournament so far.
Goku is clearly the one Jiren wants to fight but unsurprisingly, Goku is holding off on using his new Ultra Instinct form again for plot reasons. This is also why he reverted to using his Super Saiyan Blue + King Kai Fist x20 form for now. Vegeta vs. Toppo was in the preview for the next episode and it's even stated both #17 and Frieza are eliminated, likely at the start of the episode. It's not hard to figure out Vegeta likely gains Ultra Instinct either during or after eliminating Toppo.
Speaking of, it was confirmed in last week's episode what I said in my last post on the Tornament of Power: Jiren and Toppo are both candidates to become Universe 11's next God of Destruction. After Gohan sacrificed himself to eliminate Dyspo, #17 and Frieza teamed up to fight him. Backed into a corner thanks to Frieza, Toppo reveals the power he refused to use until now: The power of a God of Destruction. Having decided surviving is more important than anything else, Toppo goes full power and the tables are turned. With Toppo now enveloped in Destruction Energy, #17 and Frieza can no longer touch him. Despite wielding the power of a Destroyer, Toppo is careful not to use fatal blasts to avoid being disqualified.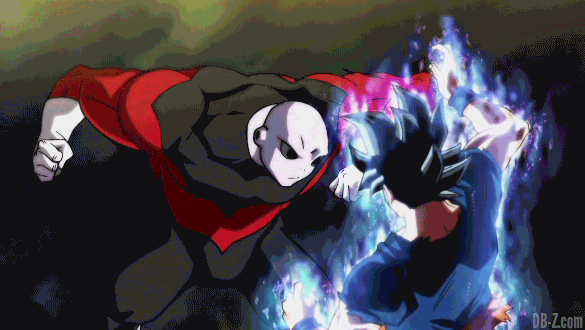 …Of course, THIS it the rematch currently being delayed. Heh. Reminds me of the original Dragonball Z Sagas: They'd drag on each Saga for as long as possible for no reason. LOL. Of course in this case, the wait will be worth it. One thing you gotta give DBS credit for: Almost no filler episodes or needlessly extended Sagas. I mean we already know Universe 7 survives since DBS begins right after DBZ's Buu Saga ends but there is a time skip in DBZ to when Pan is 4 years old. DBS takes place during the span of time in between.
The more interesting questions to be answered when the Tournament of Power ends are how does it end and will someone wish for the return of the Universes that were erased? Time will tell.