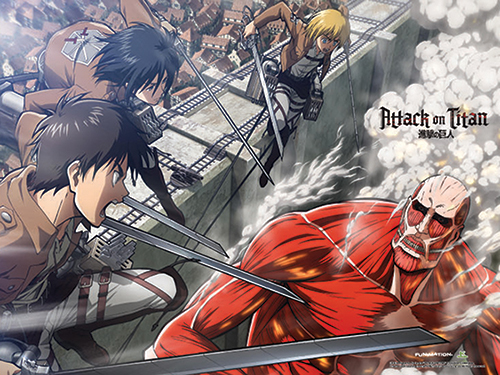 …The 6 month wait was worth it. I'll just put it like that.
A few weeks after Historia Reiss–introduced as Krista Lenz–assumed her true indentity and is is crowned Queen, the reformed Scout Regiment finally returns to Shiganshina District to find out what secrets Erin's father has kept stashed in the basement of the Yaeger family home. The Beast Titan, who recruited The Armored Titan (Reiner) and the Colossal Titan (Bertoldt) makes his move. As both sides clash, the prizes are two: Erin Yaeger and whatever vital secrets his father kept in the basement of their home.
Just like the first Season, there is a high human body count.
Hange's Squad and Armin's Squad–yes, Armin is given command of soldiers–clash with Reiner and Bertoldt in their Titan forms. Reiner is taken down thanks to the Thunder Spears developed specifically to pierce his Titan form's armored hide. Seeing Reiner fall, Bertoldt transforms and wipes out Hange's Squad save Hange herself. Armin sacrifices himself to buy Eren the time he needs to deal the decisive blow.
Meanwhile, The Beast Titan wipes out The Scout Regiment with volleys of boulders. Commander Erwin sacrifices himself and the remnants of The Regiment to buy Levi time to take down the Beast Titan. he succeeds in forcing out The Beast Titan's true form but is unable to finish the job. It's revealed in this week's episode Commander Ervin brought a vial of Titan Serum and left it to Levi to decide who to use it on. Everyone knew almost everyone would likely be killed so the plan was for the titan serum to be used on a soldier close to death. That soldier would then eat Reiner or Bertoldt to gain their Titan form.
Levi arrives after Eren recovers Bertoldt and Armin's bodies. Armin is barely alive and Eren urges him to use the Titan Serum to save his life. He's about to inject Armin when another soldier brings Commander Erwin–who's barely alive–to be revived. Levi makes the call to use it on Erwin despite Eren and Mikasa's protests. Before he can, Erwin knocks his hand away as if to reject the chance to live again. Levi, who knows the commander better than anyone decides to honor the unspoken request and uses the Titan Serum on Armin. Erwin dies shortly afterward.
In the previous episode, Commander Erwin bet everything on Levi getting the job done. He literally led most of the regiment to their deaths to buy Levi time to turn the situation around. Levi didn't finish the job but now the surviving soldiers firmly hold the advantage for now. They still have Eren, Armin now has the Colossal Titan's powers and in the next episode, we'll find out what secrets Eren's father has in their basement.
Next week's episode is a much watch!
…Whew.
Did you know this Anime was originally going to be only 48 episodes?
The Royal Knights Exam Arc wrapped three weeks ago. On next week's episode, we will find out who made the cut for the Royal Knights Squad. This special squad made up of Magic Knights for all 9 existing Squads will take the fight to The Eye of the Midnight Sun. It goes without saying Asta and Yuno both made the cut. We'll have to wait and see for everyone else.
This week's episode and last week's episode reveals the interesting backstory of how Yami and William Vangeance first became friendly rivals. They were originally squadmates. Yami wraps up this story from presumably a few years back with the two being named captains by The Wizard King after completing an important mission. Vangeance founds the Golden Dawn while Yami founds the Black Bulls.
Julius Novachrono is doing much to bridge the divide between Commoners, Nobles and Royals within the Magic Knights. Asta and Yuno came from nothing and are considered key assets in their respective squads. The next Arc is sure to be interesting.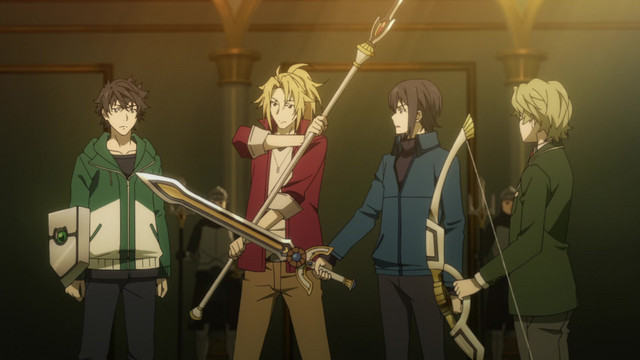 For the first time since the first episode, the Four Heroes stood together.
Naofumi finally worked things out with the other Heroes, had his name cleared and his reputation restored thanks to the Queen of Meldromarc personally getting involved. Naofumi may have made up with the other threee Heroes but he sill plans to do his own thing. The difference is now he's no longer a marked man and can freely travel the country.
When you think of everything this man went through since being teleported there, it's been a long time coming.
If you have enjoyed this post or other posts I have made on this blog, please consider making a monetary donation via PayPal. Whatever amount you can provide would be greatly appreciated.