…It's also why my Anime-related posts have significantly slowed since mid-summer. It's now been almost a year since Drama Fever suddenly shut down with no warning or notice. I'd been watching Crunchyroll and WWE Network through Winter when I suddenly got my Roku for my birthday in March. I got the English Language version of NHK Japan Channel on my Roku–really good for anyone planning to visit Japan on that note–but I knew I wanted to get something to watch live Asian Programming.
…Then I remembered Viki.
I actually had a repeat of a situation that happened with Drama Fever where I started a show on one Streaming Service but couldn't finish for reasons beyond my control. Last year, it was the Chinese historical drama The King's Woman. I watched half of it on Drama Fever before it suddenly closed but was able to watch the rest on Viki, which also carried it. Two weeks ago, it was The Legend of The White Snake. I started it on Netflix but then my 30-day free trial expired. I watched the first 20 episodes on Netflix but I was able to watch the rest of the series on Viki.
Earlier this month, I got the 7-Day trial for Viki Pass Standard. It removes the Ads, gives HD Quality Viewing and certain other perks. The Premium Pass is like Crunchyroll's Premium and Premium+ in which is does those things but also allows you to watch new episodes as they become available in their native countries. It also allows you to watch all available programming that isn't Region Locked. Like Crunchyroll's Premium+ you do pay more for Viki's Premium Pass if you go the 1 year route which I do. Standard is $50 annual while Premium is $100 anual (both are $10 monthly).
As of 4:03PM on September 23, 2019 I now have the annual Standard Pass($50). I now watch Viki enough to justify getting the annual pass and went with the lower priced one. The ads actually aren't annoyingly invasive and it's mostly because the programming is 35 minutes or more per episode unlike Anime, which is 25 minutes per episode on average. I haven't seen that much bad timing with the ads in the Free version so far –and I assume it's like that thanks to user feedback–so the emotional buildup some scenes might be going for isn't terribly destroyed. About 90% of the time, a 30-second ad or 3 pops during dialogue–usually one ad on average–with a black loading screen before and after the ad plays. The other 10% is before an episode starts and after it ends. I barely notice between episodes personally.
All that said. I got the Standard Pass to remove the ads and for HD Quality Viewing. That way, I can binge watch the 30+ episode series I have qued much faster. With winter not far off, it's sure to come in handy!
…I'd be remiss if I didn't give some Dramas I recently watched a mention:
This 2018 Chinese Drama's two leads are real life boyfriend and girlfriend. Lu Han plays Ming Tian, a young man trained as a martial artist living in the shadows of his late father's dark legacy. Guan Xio Tong plays Fang Yu, an corporate heiress by day who is the most decorated MMA fighter in the nation with a troubled past of her own. From what I read online, the Sweet Combat co-stars became an item during the course of the show's filming bu waited until after filming was done to announce their relationship last year. We'll have to wait and see if the two team up for a project again in the future but their fans in China would love to see it.
This drama is a must-watch because of the attention to detail with the training scenes and the fight scenes. If you're remotely interested in MMA, you'll like this series overall as it gives you a behind the scenes peek at young MMA fighters, what drives them and so on.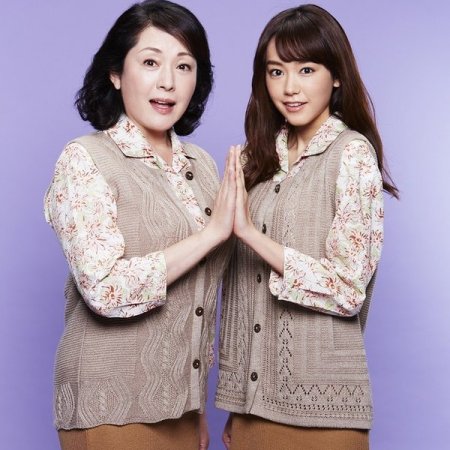 Sumika Sumire is a 2016 Japanese Drama based on the Manga of the same name. Keiko Matsuzaka (67 years old) and Mirei Kiratani (29 years old) both play Sumi Kisaragi, a 64 year old woman who is magically aged down to 24 years of age. Sumi was unable to enjoy her youth because she had to take care of her mother after she finished high school. When her mother passed away, the now senior Sumi despairs as she realizes the time she lost is time she can never have back…or so it seems. A Cat Demon she accidently unseals takes pity on her and decides to give her a second chance at life by magically aging her back to her 20 year old self. What choices will she make differently now? Will she find love? Will she stay young forever? You'll have to watch to find out!
I'm pretty sure it must have been cool for Kiratani and Matsuzaka to learn the script for two versions of the same character. Both had to learn to play characters a bit younger than they actually are though Matsuzaka was 64 at the time the filming was done. Hard to tell she's that old though–I can tell makeup was used to make her "look" old though she could probably pass for half her age.
Frankenstein's Love is a new take on a legendary character. This 2017 Japanese Drama follows a 120 year old love story with a very pure and beautiful message to all. Go Ayano does an amazing job as Frankenstein, a 120 year old man whose body hides a dark secret. It's pretty impressive the 37 year old played a 120 year old character with the body permanently of a 25 year old. There are a few shirtless scenes as well as a flashback episode that really shows off Ayano's impressive range as an actor. It goes without saying I highly reccommend watching this one!
…It's been quite a while since I last reviewed Live Asian Programming.
Now that I have a 1-year subscription to Viki, I will try to post reviews so folks can see what I've been watching. I'll talk about this more on my main blog, this one AND my Political blog but all the mass media distributors based in the U.S. have been playing catch up in recent years with bringing Asian Programming to the West. They greatly underestimated the demand for it early on and it's exactly why they've been buying the rights to companies like Crunchyroll, Viki and Asian Crush in recent years. They've seen there's a lot of money to be made in streaming services so…yeah.
If you have enjoyed this post or other posts I have made on this blog, please consider making a monetary donation via PayPal. Whatever amount you can provide would be greatly appreciated.
…To date, no donations have come in since I started including this in my posts across all of my blogs. I am now asking those who have especially come to enjoy my postings no matter how long it's been to please donate. Without going into all the details here, I need your fiancial support. If you're able donate but want to talk to me first, you can email me at btboston1@gmail.com.