Effective April 30–I'm being mindful of the time zone difference between Boston and Japan on that note–Emperor Emeritus Akihito (above, Right) has officially abdicated the throne. His son, Emperor Naruhito (above, Left) has succeeded him as the 126th Emperor of Japan.
Akihito's father and the previous Emperor, Hirohito was spared prosecution for war crimes committed by Japan during World War II for political reasons in short. It was sold publicly that top military officials acted without Hirohito's knowledge or permission despite obvious evidence Hirohito was aware of everything and nothing happened without his knowing about it. In short, no one bought it but since the U.S., which Japan surrendered to was pushing the story that's how history was written. It pissed off almost a third of the world that Hirohito basically got away with War Crimes so the US Forces occupying Japan wouldn't have to deal with an insurrection. Hirohito ruled until his death in 1989 and was succeeded by the now Emperor Emeritus and his son, Akihito.
I'll pause for a minute to add this. After World War II, The Imperial Royal Family was officially stripped of its power and influence in political matters. In short, the position of Emperor is nothing more than a figurehead with no real power in matters of State. This was the (steep) price paid to be spared prosecution. The REAL executive power is in the hands of the Prime Minister, the current one being Shinzo Abe.
There actually weren't any laws on the books in Japan when Akihito expressed concern in 2016 he doesn't think he'll be able to fulfill his duties as Emperor for too much longer. He actually expressed his desire to abdicate in a close-door meeting with his advisors several years earlier. The Diet (Japan's equivalent of US Congress) made a new law so The Emperor could Abdicate. It is the first peaceful transition in 200 years and second in which the existing Emperor Abdicates in the same timespan. Akihito became the first Emperor to assume the throne after World War II when his father, the previous Emperor died in 1989.
Take a look at this: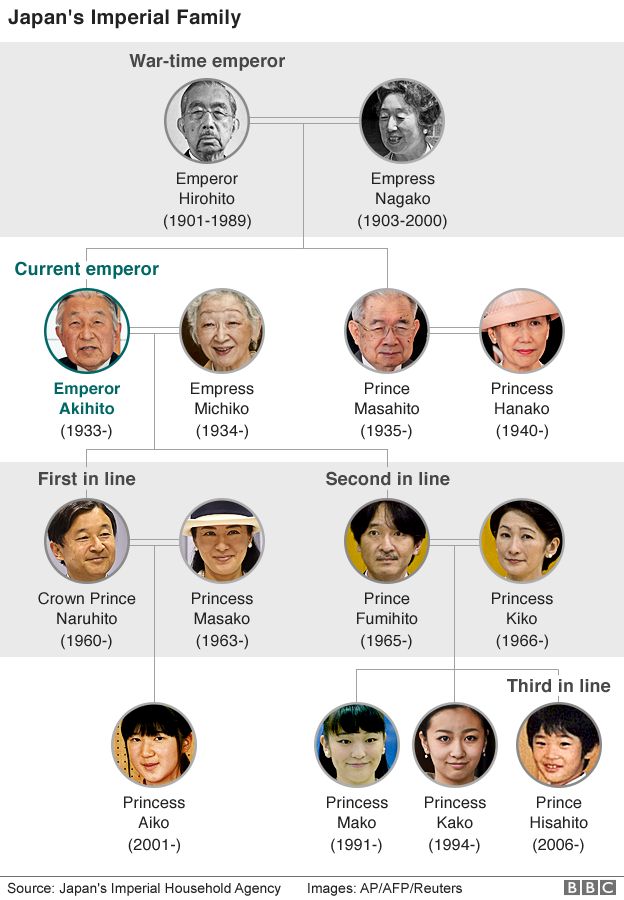 For clarification, Japan's line succession goes to the first male heir of each generation. Naruhito, who is 59 has an 18 year old daughter. The second in line after him will be his brother Fumihito (aged 54) while the third in line will be Fumihito's third child and only son Hisahito (aged 13). The marriage of Princess Mako to a commoner last year renewed debate in Japan's Diet about changing the rules of Succession. Naruhito doesn't have a male heir so his brother Fumiko will become the new Crown Prince on May 1.
The matter had been discussed before but was dropped after the birth of Fumihito's son Hisahito in 2006. If the rules were changed to how it is in Great Britain, Princess Aiko would become Crown Empress and her uncle would be second in line to the throne. It could also mean changing the rules on the status of Princesses when they marry a commoner. As it stands now, Princesses automatically forfeit their status as royalty when they marry a commoner because their last name changes to that of their husband. Not just their title as a princess but imperial finances and even access to their former residences as well. Some would like to see the rules changed to allow female royalty to retain some of their status and more so since unlike in Great Britain, the Imperial Royal Family is nothing more than a figurehead anyway.
If the rules were changed, after Aiko and Fumihito the next in line would be his second daughter Princess Kako–since Princess Mako lost her status by marriage to a commoner last year–and then Prince Hisahito. One person would come before Fumihito and one person would come before Hisahito just like that. Would Fumihito mind his niece becoming Crown Empress ahead of him? Probably not. I also doubt his 13 year old son Hisahito would mind his older sister Kako–12 years his senior–jumping ahead of him in the line of succession either.
Barring the unforseeable, I do think Emperor Naruhito will eventually Abdicate like his father did. His brother is five years younger than him so his reign will likely be shorter than their father's, who reigned for 30 years starting at age 55. Emperor Naruhito is now 59 years old. He may reign for 15 to 20 years before deciding to Abdicate. This could be done to fast-track Hisahito's son becoming Emperor while still young. Time will tell.
By the way, only the current Emperor (and Empress) are referred to as "The Emperor" (and "The Empress") like the current Pope is referred to as "The Pope". The previous, living Emperor (and Empress) will now have the title Emperor Emeritus (and Empress Emerita). The Emperor's Ascension Ceremony will take place on October 22.
If you have enjoyed this post or other posts I have made on this blog, please consider making a monetary donation via PayPal. Whatever amount you can provide would be greatly appreciated.
…To date, no donations have come in since I started including this in my posts across all of my blogs. I am now asking those who have especially come to enjoy my postings no matter how long it's been to please donate. Without going into all the details here, I need your fiancial support. If you're able donate but want to talk to me first, you can email me at btboston1@gmail.com.