Ok so Season 2 of Cells at Work started earlier this month (and somehow I didn't know it was coming). To say it's a nice surprise for me goes without saying.
The first half of Episode 2 was a clear reference to the ongoing Pandemic in progress with the topic of it being Acquired Immunity. The disease featured was the Mumps. For those who don't know, if you get vaccinated from the Mumps once you are set for life. This is called Acquired Immunity. The Flu Vaccine is an annual vaccine because its effectiveness only lasts about 6 months. We know the Flu Season typically runs between October and February and this is why you normally get vaccinated in the Fall months each year.
Vaccines save lives.
End of story. There's a LOT of aggressive Anti-Vaccine misinformation that has been spread in North America for at least the last 20 years now. It's the reason the U.S. leads the world in COVID-19 cases and deaths since last Spring. It's shameful to say the least but I won't digress further. I have a separate Blog for that purpose.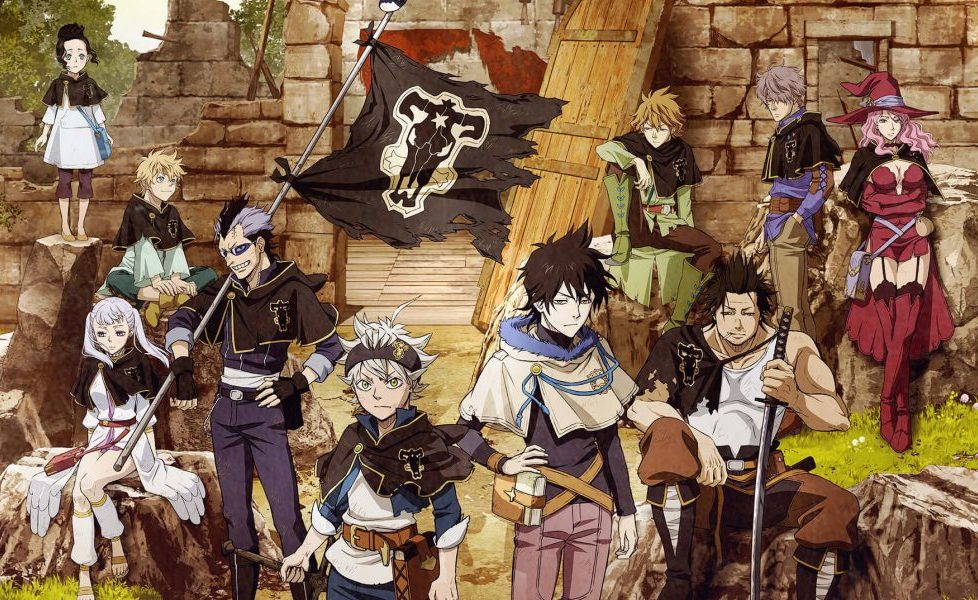 It was recently announced that the anime version of Black Clover will wrap up on March 30. It's worth noting like Bleach did before it, the Manga version is going to continue.
As everyone should be aware by now, not everyone who watches Anime adaptations has access to the source medium. Black Clover is no exception. There actually was a long pause between the end of Inuyasha's 7th Season and the release of the final arc, The Final Act. The fans demanded it and it happened. I do remember hearing a few weeks ago Bleach's final Arc is getting an Anime adaptation so there's that.
Time will tell if the same will happen with Black Clover. For now, the series will end on my birthday =O
Stop everything:
After 14 years, Tales of Symponia: The Animation has FINALLY been officially realeased outside Japan!
Crunchyroll dropped the bombshell news Wednesday morning and then released it the same afternoon along with 3 other Classic Anime. The anime initially released on Crunchyroll without subs but the problem seems to have been fixed by Thursdy morning. Horray!
For those who are not familiar with the video game Tales of Symphonia–shame on you if you're one of them–it is only one of the greatest RPGs from a story perspective. Ever. Initially released on the Gamecube in 2003, it was since re-released first on the PS2 (Japan only), the PS3 (globally) and more recently Steam. I still have the original Gamecube version as well as the PS3 and Steam versions. The game is THAT damn good but I won't digress further here. I have a separate blog for that purpose.
Anywho, the anime originally released between 2007 and 2009 across serveral arcs. The anime is 11 episodes long in total. Like Tales of Phantasia's Anime (which I have on DVD, it's 4 episodes long), a LOT of story content from the video game is cut mostly for time but I'll talk about that more on my video game blog.
The fact that the anime adaptation is so short really hurt it with fans of the video game to say the least. More so given the game's presentation is anime-like. For many people, Tales of Symphonia was the first game they played with a voiced cast. Anywho, fans were expecting a faithful retelling of the story back in 2008 but what they got instead was the same they got in Phantasia: a scaled down mish-mash with some key details cut or presented out of sequence. I will cover that on my video game blog in a separate post. Once it's up, I will add the link to this post.
I will leave you with the lyrics to the OP for Sylverant Arc, Almateria:
The artist who performed the song, Eri Kawai passed away in 2008. One of the biggest mysteries surrounding this song is what language it's in. I did some looking around and apparently three languages are used: Japanese (obviously), Latin and English.
It's NOT a made-up language or "the language of the angels" as some people keep saying on YouTube. Anyone familiar with old Fantasy stories should already know Latin is commonly used as the "magic language" because for centuries, most of Europe knew both Latin and their native language. No way in hell would they get away with making up a language without an actual translation. I can guarantee that.
On that note. I do know Holy Song, which Colette sings in Episode 2 (Fiat Lux) is in Latin:
Here is the translation, pulled from YouTube:
~Latin~
Ne Perdatis Luces
Cantum Sanctum Nunc Accipite
Oro, Canto, Vobis
Fiat Lux
Spes, Ne Perdatis
Cantum Lucum Nunc Accipite
Dono Animam Mea
Fiat Lux
~Translation~
Don't lose the lights
Receive the holy song now
I pray, I sing, that to you
There may be light.
Do not lose hope
Receive the song of lights
The gift of my soul
Let there be light
Almost the exact same 2nd and 4th lines in each verse. In general, Latin is recited or spoken slowly. That's what the dirge sounds so otherwordly. That's the desired effect obviously. In general, music can alter moods and your state of mind. Keep that in mind.
Getting back on topic, the anime does its job of telling you most of the major plot points. It's still a hot mess unfortunately though. You're better off playing the game in comparison.
If you have enjoyed this post or other posts I have made on this blog, please consider making a monetary donation via PayPal. Whatever amount you can provide would be greatly appreciated.